And here's a new blog hop I found for PR friendly blogs that do reviews and giveaways. Head on over and check it out!
This is my first time doing Post-It Note Tuesday. I saw it on another blog and thought it was cute so here I go!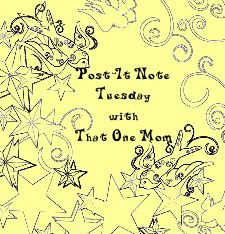 I am going to be sending the winners of the Gain giveaway their prizes today. Then, I hope to get my next giveaway posted by this evening. I just LOVE hosting giveaways. It just makes for alot of fun!! :)
In between all of this, I am going to make some brownies. Yummy, chewy, full-of-flavor brownies. Granted, I am cheating and using a mix, but my kids and hubby like them just the same. I call them "boxed goodies made with love!" LOL
Have a Terrific Tuesday everyone!
**A.Marie**