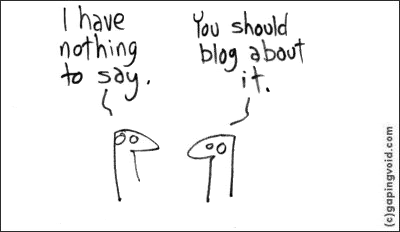 I had to laugh when I saw this little cartoon, because this is my life right now....I have absolutely nothing to say. So, I've decided just to blog about nothing until I can think of something that is interesting. How is that for honesty?
Maybe I should rename my blog and call it the "Nothing to Blog About Blog." The name says it all.
So, until I can get back on track with my blogging, I shall just stalk visit all of your blogs until I get my mojo back. I know it is (ere somewhere, along with my sanity; as soon as I locate it, I'll let you all know!
Until then, I'll keep on looking.....
A.Marie